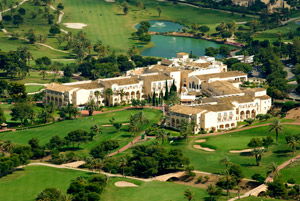 A BRITISH company is looking at purchasing La Manga Club, the famous luxury sports and leisure resort in Murcia, according to a Spanish press report.
A little over two years ago the picturesque La Manga Club – which has some of the finest golf courses anywhere in Spain – applied for bankruptcy protection when it stated it could not finance its €97 million debt.
London based property company – London & Regional Properties (L&R) – has made serious enquires about purchasing the club which was previously run by P & O before being taken over by MedGroup Inversiones SL.
This group owned by brothers Ian and Richard Livingstone, L&R already owns more than 60 quality hotels and buying such a well established club like La Manga would certainly expand the company's footing in the Spanish market.
L&R is one of Europe's largest privately owned property companies with a world-wide investment and development programme exceeding €9 billion, according to the company. A spokesman for the workers' union CGT at La Manga Club seems to think a deal is imminent.
But while La Manga boss, Antonio Ros, confirmed to Spanish daily La Verdad de Murcia talks had taken place with L&R, he said there is "no information at present." When contacted by EWN a representative of La Manga Club said there"is nothing we can confirm."
Easily one of the biggest and best sporting complexes in the southern regions of Spain, the La Manga Club a change of ownership will hopefully boost interest, increase bookings and give everyone associated with the club a massive lift
Meanwhile, Alfonso Gonzalez from CGT said MedGroup has been more focused on developing the property aspect of their investment, he believes L&R would be more beneficial for the hotel's future.
Watch this space.
La Manga Club was voted 'Spain's Leading Golf Resort' in 2004 and 2006, and 'Europe's Leading Golf Resort' 2004 and 2005 in the World Travel Awards.
Photo credit: lamangaclub.com
By Tony Matthews