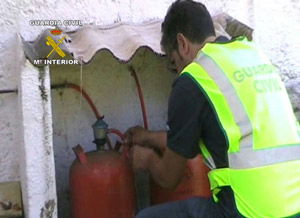 GUARDIA CIVIL arrested 20 members of an organization which tricked elderly people with gas inspections and charged them up to €900.
The gang operated in Asturias, Leon, Lugo, Cantabria, Vizcaya and La Rioja, although the leader was based in Toledo.
More than 900 people are believed to have been affected.
They claimed to represent a national gas company and mainly targeted elderly people in rural areas. They threatened to cut off the gas supply if the victims refused to let them in or pay the bill.
In some cases, if the victim claimed not to have any money at home, they would take them to a bank in their own vehicles.
After spending the day tricking their victims, they would return to an office where they handed in the money they had taken and received between 33 and 39 per cent of the amount.
Guardia Civil seized a computer, documents and forged inspectors' cards.
OFFICIAL ADVICE:
Do not let anyone you don't know into your home.
Check the identity of anyone claiming to be from a service-providing company by calling the official number, never the one they give you.
Do not be impressed by uniforms, cases or official documents.
Never sign anything or hand over money without the presence of a person of confidence.