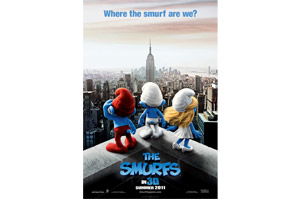 The Smurfs make their first trip to the big screen in Columbia Pictures'/Sony Pictures Animation's hybrid live-action and animated family comedy, The Smurfs.
When the evil wizard Gargamel chases the Smurfs out of their village, they're forced through a portal, out of their world and into ours, landing in the middle of New York's Central Park.
Just three apples high and stuck in the Big Apple, the Smurfs must find a way to get back to their village before Gargamel tracks them down.
The Smurfs will be a definite winner for young children, and there are several scenes which will have them laughing out loud. Although it's predictable adults will be able to comfortably sit through it and there are a few scenes with clever humour.
However, there is some sexual innuendo in the film which has outraged many parents, and although it is really not necessary, it will go over the heads of most younger children.
Some of the humour is a bit rude, and although there is no direct swearing, the Smurfs use the word 'smurf' in the place of 'bad' words, so may find your kids coming out with expressions like "Son of a Smurf" after they've seen it.
As for the graphic side, it is not brilliant, and the concept of mixing real actors and cartoon characters has certainly been pulled off better in other films. Rather than keeping them looking like cartoons, the animators has given the Smurfs a waxy, translucent quality, which appears a little strange.
Film Review by Gabrielle Devon