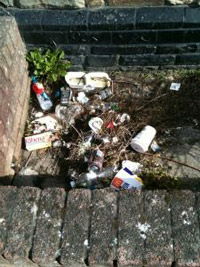 Here Tony Matthews follows up Stephen Amore's excellent feature 'The Rural Reality' on page 25 of the EWN, (1-7 September 2011).
MY wife and I live in the peaceful and picturesque retreat of La Pilica in the Cabrera mountains and regularly travel down through Turre into Mojacar and the surrounding resorts, utilising three different routes, one running directly around Turre itself.
Along each route we continually see litter scattered everywhere, some of it lying just a few yards, and I mean a few yards (10-20) from a public waste bin, even bins!
Many roads, slip roads and driveways, gutters, alleys and avenues are now fast becoming eyesores, especially after a gusty wind has swirled round for a couple or three of hours.
Here are some photographs I have taken of the area in question – of the rubbish-littered roads around Turre – and quite honestly the local folk, I feel, don't care two hoots.
I have stopped several times with my wife picking up rubbish and placing it into a waste bin just 10 yards away. The other day we almost filled, what started off as an empty bin within five minutes, using our bare hands and hardly walking half-a-dozen yards around the litter zone.
I could readily name and shame some of these so-called litter louts, as we binned quite a lot of rubbish which indicated who it belonged to… but I won't.
Some of your letters (envelopes) and leaflets plus a bent-up credit card belonging to one of you, were picked up with the litter. And I have also seen builders dumping their rubbish anywhere they wish.
Some pictures I have in my possession will no doubt embarrass two local workers, their company and certainly their boss.
It's not painting a very good impression, is it, for people who are visiting the area? And this summer there have been quite a few folk (including tourists), young and old, who have driven through Turre, heading towards Los Gallardos, Bedar, Vera, Garrucha and certainly to Mojacar.
In fact, there have been at least 1,000 people (perhaps nearer 1,500) pass through and/or around Turre over the 2/3 months, some on them making their way to Cabrera and Cortijo Grande, the majority, I guess, travelling along litter-lined roads and lanes by car, cycle and even on foot.
And these do not include the scores of people who live in the area or have summer homes located in the mountains. What do they think as they daily (or weekly) see their neighbourhood slowly being converted into a mini dumping zone?
My wife and I are fed up to the teeth (so too are our neighbours) of continually seeing litter lying on the side of roads.
I heard recently that Spain was the noisiest country in Europe… it's now fast-becoming one of the dirtiest, litter-wise.
Some years ago I spent a lot of time in Switzerland, one of the cleanest and freshest countries in the world. If anyone was caught dropping litter was either fined or made to spend up to ten hours a week clearing up the rubbish (on foot) within a two-mile radius of their home.
Take note Mr Mayor and your committee. Let's make our area – and indeed, everywhere else in Spain – a place we can be proud of.
Please respect the countryside. Remember that one ray of direct sunlight shining on a piece of glass can easily set shrub land on fire… and I also know that sun beating down on a small beer can or plastic container will also trigger off a flame.
All comments are welcome ([email protected]). Please send in some pictures of your unsightly litter scenes. I would readily accept 1,000 euros a year to go and pick up the litter from the area around where I live. Any offers?
Read and digest ALL Spanish councils!