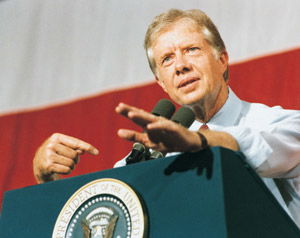 FORMER president Jimmy Carter is proud that his administration never fired a shot or went to war.
Ironically, had he ordered the bombing of Iran in 1979 after the American embassy was occupied in Teheran he would probably have been re-elected instead of losing to Reagan in 1981.
The trouble with the United States' foreign policy then – and now – is that only overt toughness is held to reflect strength while bypassing opportunities for aggression is regarded as weakness.
Same product, different name
WHEN the West encouraged and then applauded the Arab Spring it did not foresee that the Arab Autumn would commence with storming and sacking the Israeli embassy in Cairo. This, or something like it, was inevitable, because opposition to tyranny is routinely interpreted as a step towards democracy, when it is often simply a step towards more tyranny marketed under a different name.
BRIC to the rescue
Brazil, Russia, India and China – BRIC, the newest acronym for a not-so-brave world – could help Europe haul itself out of the hole that Greece has dug for it. This is not selflessness, as they have profits to protect. Nevertheless, the EU's need of assistance from former foes and ex-colonies proves that the sun has set once and for all on the brave old world.