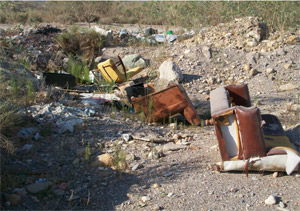 FOLLOWING my story about 'litter' in the EWN I have received a number of Emails (and personal comments) from disgruntled people living amidst piles of rubbish.
One of these messages, sent in by John and Judy Evans, who live at the top end of Turre near to the cemetery, tells its own story.
These photographs show clearly what they have to put up with… this unsightly mess is right in front of their front door! Come December it will be four years since building work stopped completely on this site and as a result it is now inhabited by several feral cats and, even worse, a very large population of rats.
Additionally, the Evans' aren't amused by passing motorists who regularly toss their rubbish over the fence which circles the site. On top of this they also have people breaking into the site at odd hours to steal the building materials that Progal, the constructional firm, has left there.
Along with their near-neighbours, the Evans' have, over the last three years or so, made numerous requests to the Turre town hall in an effort to have the site cleaned up, even cleared completely. But each time they have been told and I quote "The situation is being looked into and all will be sorted."
That was the 'promise' given by the last Mayor and also the present one. Selling property around the Turre area at the moment is very difficult. And this sort of mess certainly doesn't help. Everyone living locally (that's within an 800-metre radius) want this site cleared – sooner rather than later – and later could be another four years!
A clear site would, I'm quite sure, certainly help potential property buyers give this part of the area (Turre) a thought.
There is a major problem regarding the state at the bottom of the road near Calle Cadiz and the disused river bed, on the way over towards the Oasis caravan park and near the 'new' railway track.
This road is used by many residents and holiday makers who choose to walk into Turre. The majority of the rubbish dumped there – and no, it's not from the builders this time – it's household or domestic waste.
I can't imagine how many bins these people have to pass to get to the river bed area to dump all this rubbish? John and Judy Evans have lived happily in Turre for almost six years and are convinced the situation with rubbish has got progressively worse.
The village looked far better when the skyline of the village was full of builder's cranes… at least it looked like something positive was taking place in Turre.
The Evans' have now stopped holding their breath and hoping things will improve! It's a crying shame really, because they love Turre and the surrounding area, but hate having to explain to family and friends who visit us why the place is in such a mess.
There's litter, litter everywhere…. come on, someone in authority has to get their act together… YES?
By Tony Matthews
[email protected]