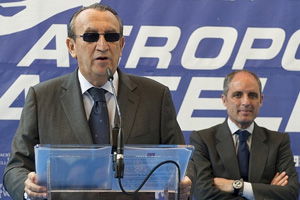 JUAN GARCIA-SALAS boss of Castellon airport – where no planes have taken off or landed since its inauguration – earns more than the Spanish Prime Minister.
With a salary of €84,000 a year, Garcia-Salas makes more than PM Jose Luis Rodriguez Zapatero (€78,184).
This was revealed by a spokesperson for political party Esquerra Unida (EUPV) who described the fact as "scandalous" adding that these figures should be shocking to more people especially given the economic recession "when many people struggle to make ends meet."
The airport cost €150 million, funded by the Public Works Ministry, it occupies 540 hectares and its impressive facilities include a 9,600 square metre passenger terminal (but no passengers) and a truly impressive 2.7km long and 43 metre wide runway (but no planes).
The airport was inaugurated – not opened – in March this year by the former Castellon provincial president and businessman Carlos Fabra (Popular Party, PP) and former Valencia Regional Government President Francisco Camps, in what some critics said was just a public relation exercise.
Others say the inaugural party took place in March ahead of the May 22 local and regional elections to circumvent legislation that forbids campaigning using such events within a certain time before elections.
At the time, Fabra said the inauguration was brought forward to allow residents in the area a few months to visit the installations at their leisure, as if a tourist attraction.
Aerocas, the company formed by the Valencia Regional and Castellon Provincial Governments to run the airport, did not have the necessary paperwork and permits in order at the time of the 'opening'.
Fabra is President of Aerocas.
EUPV's Castellon MP Marina Albiol said: "Now we know the airport does serve a purpose, obviously not to take planes and tourists, but as a perfect excuse to fill the pockets of other officials and bosses, friends of the PP, who earn astronomic salaries to do who knows what."
Albiol called for an urgent and necessary review of regulations affecting salaries of senior officials "so they can be relative to the current [economic] situation of the country and to prevent them from reaching scandalous amounts."
Castellon Airport is not expected to start functioning as such until spring 2012, according to the Valencia Regional Government.
Photo credit: Aeropuerto Castellon
By John Jackson