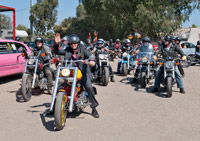 On Saturday, September 17, Sandra Catterall and Jurgen Duflou, owners of the Roadhouse cafe/bar near Tabernas on the N340, were married in an unusual way.
The wedding took place in a field near Mini Hollywood which has old stone and wooden houses used as a film set. Jurgen arrived with an escort of more than 40 motorbikes, many of them Harley Davisons.
Sandra arrived with her bridesmaids in a pink stretched limo. The service was carried out by the mayor of Tabernas, with more than 200 people in attendance.
Later, the reception was back at the Roadhouse where the festivities started with a giant paella followed by music by a local rock band.
Photo credit: Lyle Mallen, www.lylemallenphotography.com