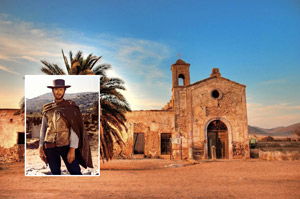 THE owners of the house used during the making of the 1966 Spaghetti western starring Clint Eastwood, 'The Good, the Bad and the Ugly' in Nijar, are willing to sell it.
The company Agricola La Mision SL, who own the Cortijo del Fraile and the 400 hectares which surrounded, has said that they are "fed up" and want to reach an agreement with Nijar Town Hall and the Junta de Andalucia as soon as possible.
Both institutions want the 'cortijo' to become public heritage to it can be repaired and restored. Currently, a collapsed wall threatens to bring the entire building down.
Cortijo del Fraile was the true-life setting of the crime of passionate murder on which Spanish poet Federico Garcia Lorca based his play 'Blood Wedding' published in 1932.
It was classified as an Asset of Cultural Interest in February and a local cultural group has taken measures to attempt to protect it.
The company has said that although the property may be worth up to €4m, they understand that all administrations are having financial difficulties and that the amount of money they receive is the last of their priorities as they prefer to be rid of the property so that it can be properly maintained.
Nijar Town Hall has suggested giving the company other lands which may interest them, or allowing the 'cortijo' to be run as a restaurant or rural hotel.

Photo credit: Ventura Carmona
By Jennifer Leighfield