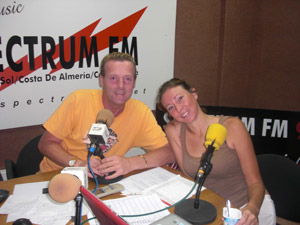 OVER the weekend Spectrum 92.6FM, Almeria's No. 1 local radio station upgraded all of their transmission equipment to enhance the listeners pleasure.
Now fitted with state of the art processors and the most up to date computer software available on the market today the new upgrades have proved an instant hit with local listeners.
Diane Blackbourn from Mojos Restaurant in The Parque Comercial in Mojacar said: 'The sound difference is incredible. It is like chalk and cheese. We only listen to Spectrum FM in our restaurant and are astounded by the changes. It is great to hear the benefits and we are very pleased with the results we achieve from advertising on Spectrum 92.6FM and in this paper. We wouldn't go anywhere else.'
'Spectrum FM's Almeria Happy Hour programme each weekday from until midday presented by Helen B and Richard Shanley and sponsored by the Euro Weekly has benefitted over the recent months with a huge influx of new listeners and to be able to offer a vastly improved sound quality to them has been long overdue,' said Jessica Shanley, MD of Spectrum Radio.
'Also our association with the Euro Weekly Newspaper over the past two years has also been instrumental in our phenomenal success. The No. 1 local radio station and the No.1 local newspaper working together makes absolute sense on every level and we look forward to working together for many years to come and forever improving our service to listeners and readers.'