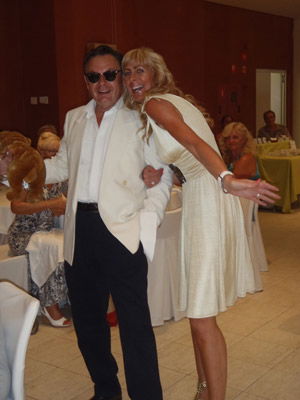 Two the year's most important fund-raising events for the area's favourite animal charity PAWS were held last weekend at Vale De Este Golf Resort.
The annual golf tournament sponsored by Euro Weekly News and their designer fashion show which was held in the Jarra suite in the hotel.
A superb three course meal was served which coupled with the fashion show for a cost of only €15 was great value. A packed house in a stylish venue saw models clad in all types of designer garb with the outfits going under the hammer after each section of the show.
There were some unbelievable bargains on offer, one of the best being a €400 unworn Escada dress selling for €55.
The audience thoroughly enjoyed the afternoon and the professionalism of the models belied their amateur status.
I was fortunate to be on a table with local singer Lady Ellen and Jet from the bar that bears her name in Villaricos who were filling me in with the ins and outs of the clothes.
They left with a large quantity of shopping bags between them. With €588 raised on the joint raffle between the Golf and Fashion and then a further €1664.50 raised during the Fashion Show this is proving is be one of PAWS most lucrative annual events.
By Richard Shanley