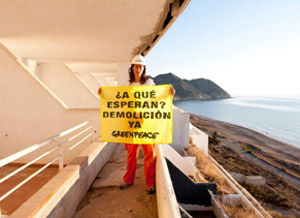 THE Ministry for the Environment and the Junta de Andalucia have come to an agreement on how to proceed regarding the Algarrobico Hotel.
The Secretary of State for Climate Change and Biodiversity, Teresa Ribera, confirmed that the Ministry will pay to demolish the hotel in Carboneras as soon as legal sentences allow for it to go ahead, and the Junta de Andalucia will deal with clearing the site and paying to restore the land to its former state.
Ribera said that the Algarrobico is something "which should have never happened" and that there was no way of knowing how long it would take for the hotel to be declared illegal. She also recalled a similar situation on Zahara de los Atunes beach in Cadiz with the Atlanterra Hotel.
Earlier in the week, local residents and business owners as well as some politicians held a protest in front of the hotel to express their opinion, which is totally different to that of Greenpeace, something which had caused confrontations between the two groups.
Many locals believe that the hotel should be allowed to remain in place and open as it would bring trade to the area and create jobs for locals.
Greenpeace gone
GREENPEACE activists who had 'set up office' at the Algarrobico Hotel, left it to take around 20,000 signatures against the hotel to the Moncloa Palace in Madrid. They are demanding a decision to demolish the hotel.
Photo credit: Greenpeace