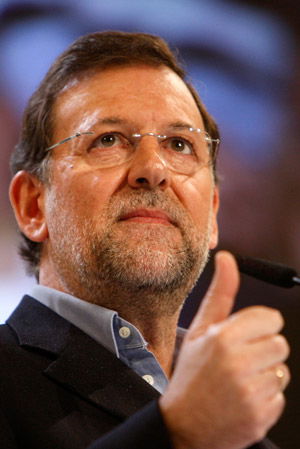 IF the general election were to be held now, the Partido Popular would romp home.
The PP's presidential candidate Mariano Rajoy would take 47.1 per cent of the vote compared to Alfredo Perez Rubalcaba's 32.2 per cent share, found pollsters Sigma-Dos.
Rajoy should count on a "comfortable" overall majority in the November 20 elections, according to the poll's results published last Sunday in El Mundo.
If voters continue the current trend, the PP is likely to outstrip the 183 parliamentary seats won in 2000 under Jose Maria Aznar, while the PSOE faces its worst ever electoral defeat.
The deepening economic crisis, the Interior ministry's contradictory handling of the Indignados movement and the decision to amend the Constitution have taken their toll, say political analysts. Jose Luis Rodriguez Zapatero, the outgoing president who is leaving politics, is hardly to be seen and has been described by critics as "missing in action."
The PP's consistent lead over the PSOE was temporarily reduced after Rubalcaba was named the socialists' presidential candidate, but the Sigma-Dos results confirmed that the brief honeymoon was over.
Paradoxically, even though he is unlikely to scoop up sufficient votes to avoid defeat, Rubalcaba is best-valued by the public although his approval rating fell from 4.61 to 4.46 since the last Sigma-Dos poll. He is followed by former PSOE politician Rosa Diez who now heads UpyD with 4.22 and the Catalan nationalist Josep Antoni Duran Lleida with 4.20.
Trailing in fourth place with 4.18 came Mariano Rajoy whose lack of personal popularity is nevertheless unlikely to prevent him from becoming the next president of the Spanish government.