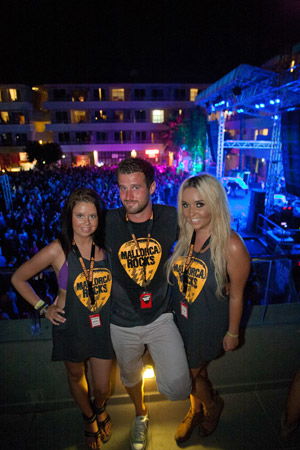 AFTER a busy season working for Mallorca Rocks Hotel Tommy, Becki and Anna are preparing to wrap up for the winter.
All three moved to Mallorca specifically to work in the promotions team for the summer.
The familiar role of PR has changed in Mallorca and businesses have needed to come up with a new and creative way to get their message across whilst complying with new regulations about business practices.
Certainly it's a skilled job that takes confident, articulate, persistent and friendly personalities.
"We have been responsible for getting all the publicity out there: both the old and new media. That means traditional posters AND the new iPads!" said Tommy from Coventry.
"Mallorca Rocks has collaborated with some of the other businesses in Magalluf," said Anna who flew over from Bolton in June to work for the summer "so one of the things we've been able to do is tell visitors about our competition to win a holiday next year."
And would they return to the resort next year? "Definitely, yes, but I am also going to Gran Canaria for the winter to work as a singer, so you never know, I might be on the stage next season, not part of the promotions team!" said Becki who is originally from Leeds.
Tommy has the last word, "I have really loved it, we have been part of a big family. I love this crazy place!'
Tuesday 13th September will see Madness play at Mallorca Rocks Hotel, an event which has been looked forward to by many residents of Mallorca. The following week on 20th September the season will close with a performance from The View.