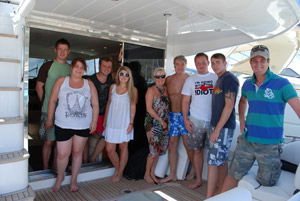 A SECOND group of injured British soldiers visited Puerto Pollensa. This group are six soldiers and their partners from the Light Dragoons, mainly based at Norwich.
They arrived last Tuesday and returned to the UK this Tuesday.
All of these soldiers have served at least one tour in Afghanistan and all are wounded but remain remarkably cheerful. As usual they all stayed together in a lovely house between Pollensa and Alcudia due to the kindness of an extraordinary lady.
Due to the generosity of many people both here and in the UK they had many things to choose from to do while they are here. On Wednesday they went to Purto Pollensa market and then had a meal at The Codfather; mainly fish and chips!
They have been Go-Karting, to the Fitness centre in Puerto Pollensa, golf in Pollensa and their headquarters most nights has been Linekers in Pto. Alcudia, where they watched the England match on Friday night. Some even have been to Magaluf for an evening!
On Monday seven of the party spent the day on a private cruiser round the bay, having lunch and drinks on board and a swim.
Thanks are due to many people; Sheila, Sarah, Richard, Nobby and John Brown and last but not least the generosity of the congregation of St. Andrews Church Puerto Pollensa and other individuals who have donated anonymously or through their own fund-raising activities both here and the UK.
A further group of soldiers will arrive on Wednesday October 5.
Anybody who would like to donate to this cause email Geoff on [email protected]
By Howard Mullen