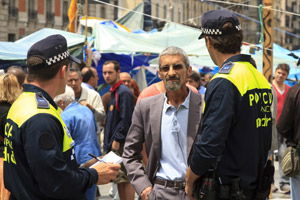 "THE government cares more about the Indignados than the Police," the UFP police union declared.
Last week union members presented a resolution to the European Confederation of Police (EuroCOP) in Brussels, describing their problems since the 15-M movement emerged last May.
These were caused by "inaction" on the part of the government and their own superiors, plus the way that 15-M demonstrations were handled differently from other protests.
Once the first 15-M protesters occupied the capital's central plaza, they had claimed the Puerta del Sol as their own, said the union. When it was finally vacated weeks later, police had to put up with "insults and disrespect" from Indignados who spat at them and attempted to urinate on their boots. Others stripped naked or "mooned" in front of them.
"We are obliged to look on, put up with it all and allow everything," a spokesman claimed. "We are guilty of nothing but have to work endless shifts while putting up with every kind of humiliation, working overtime and guaranteeing everybody's safety.
"That includes the people who want to use the streets as they are entitled to, together with those who break the law day after day by stopping them."
There were only 2,800 riot police in Spain and 600 were based in Madrid where they had to maintain public order, mount anti-terrorist checkpoints and provide security at foreign embassies, said the UFP. This was clearly not enough, especially when compared with other countries.
The last straw was the disciplinary action begun against three policemen after a YouTube video showed them hitting and kicking a 17-year-old girl, apparently for no reason. The incident occurred on August 17 when, according to the union, the government disregarded police information and authorised a pro-secular demonstration on the eve of the Pope's visit.
A society like Spain's should not allow the nation's police to be placed under suspicion, the UFP insisted. To avoid this, the union has asked the EU to set guidelines for police action together with directives dependent on judges and the prosecution department, not the government.
This would ensure that citizens were treated without discrimination and within the law, while police would be legally protected from prosecution by private individuals. As it was, "every socio-political conflict now becomes a policing conflict."
There was also criticism from the police for internet sites "dominated by anarchists and anti-system groups" which circulated images bringing police conduct into question and targeting individual officers.
Harsh words were heaped on Alfredo Perez Rubalcaba, former Interior minister, and Maria Dolores Carrion, the national government's Madrid delegate.
"They have never defended the police and turned a deaf ear to repeated complaints," the union protested. "Now we have had enough."