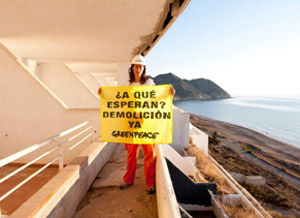 GREENPEACE has opened an 'office' at the Algarrobico hotel in Carboneras to demand that it be demolished.
A sentence declared it illegal three years ago this week and the environmentalists have announced that they intend to remain on the premises until the central government and the Junta de Andalucia sign an agreement to knock it down.
The organization is demanding that the matter be discussed at the cabinet meeting this Friday, to decide who should take responsibility for demolishing the hotel. They are also demanding that the Junta de Andalucia stop all lawsuits which defend that the plot can be built upon and intend to legalise the hotel.
Around a dozen Greenpeace activists will remain at the hotel and have put up a banner reading '¿A qué esperan?' (What are you waiting for?) to draw the attention of the different administrations.
They defend that they are not on private property, as the plot was declared public domain as part of the Coastal Law in 2005. They are also collecting signatures with local environmentalist groups such as Salvemos Mojacar and Ecologistas en Accion.
Meanwhile, the promoters of the hotel, Azata del Sol, have simply said that the building could be dangerous and that they fear for the environmentalists' safety. More about the action taken by Greenpeace can be seen at their website. They report that the police have visited the hotel and identified each of the people taking part in the protest.
Photo credit: Greenpeace