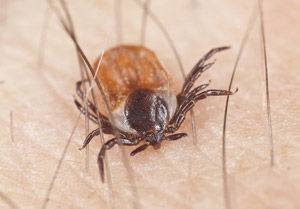 Spain's southern regions were increasingly affected by the advance of ticks, warned Professor Agustin Estrada of Zaragoza University.
Ticks were proliferating owing to the higher autumn and winter temperatures caused by global warming, said the Professor who heads Veterinary School's department of Parasitic Diseases.
The "africanisation" of the Mediterranean climate meant that Spain –particularly Andalucia – was more exposed to ticks than formerly.
Little reliable information was available "because nobody has ever taken an interest in ticks and no sampling has been carried out" according to Estrada.
Ticks were found below altitudes of 1,000 metres and were also present along the Cantabrian Coast in northern Spain. The increasingly abundant ticks brought health problems to humans and animals, explained the professor, who recommended that the Health authorities investigated "where and why they were present."
The public also needed to know how to eradicate and prevent tick-borne diseases such as Lyme's disease, Crimean Haemorrhagic Fever and Rickettsian infection, he said.
Although seldom life-threatening, they could be incapacitating and the several hundred cases reported in Spain each year were sufficient to constitute a public health problem, said Professor Estrada.
There was no chemical solution to ticks but they were easy to detect and simple to remove with tweezers, he said, and hikers and mountain walkers should always examine their clothing and skin on returning home.