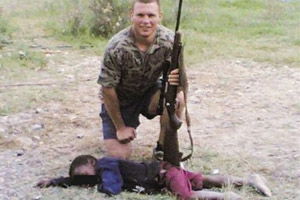 POLICE in South Africa are investigating photo on a Facebook profile showing a smiling white man with a rifle, standing over the body of a young black child.
The photo appears on the profile of a man calling himself 'Eugene Terrorblanche', with a profile which describes him as a businessman who likes The Simpsons, guns, knives and Afrikaner music. He has more than 500 friends, none of whom have apparently criticized this image which he uploaded on June 24 last year, and have, on the other hand, made some comments in favour of it.
The Sunday Times used the picture on its front page on August 28, under the heading "Wanted: Facebook racist". However, a reporter came forward to say that she had run the story about the photo for Eye Witness News several years ago after it was discovered on the page of a racist Facebook group.
A Beeld report said that police investigated the photo in 2007. The man concerned told them that he had paid the child to lie like that.
Police are reportedly attempting to confirm that the child in the photo is still alive. Even if it is staged, the photo could still violate South African law.
Although it has been taken down from the original account, it has spread rapidly online.
The Sunday Times defended the decision to publish the image, saying: "Our story is about an extremely racist image being published on Facebook now, in 2011. We must find the person who published this image."