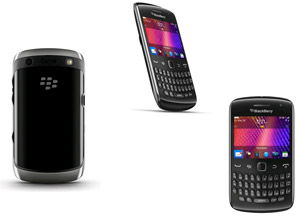 RIM is rolling out their third BlackBerry model in two months.
This August saw the release of the Torch 9810, then the Torch 9860 and now the Curve 9360 is expected to be released the end of September to go head-to-head against the much-rumoured iPhone5.
BlackBerry Curve 9360 runs their Operating System OS7.
It does not have as many applications as Android, nor does this phone have a touchscreen, instead one must navigate around using a trackpad and then there is the full Qwerty keypad.
It is small, slim at just 11mm thick and light with rounded corners, metallic edging and plenty of curves.
Rubberised buttons built into the side of the phone are for volume control and the Curve's 5-megapixel camera with flash.
The headphone socket has been moved to the top of the phone, making it easier to keep the phone in ones pocket when walking along listening to music.
BlackBerry Messenger BBM6 lets the user send instant messages to other BlackBerry users, including groups of people.
The messages are free, provided one pays the extra every month to unlock the feature.