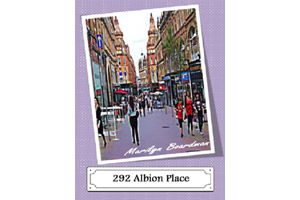 WHEN Nigel and Lorraine take on a new venture little do they realise just how much 292 Albion Place has in store for them.
Desperate to save his marriage Nigel had sold the Fish and Chip shop he'd inherited to please Lorraine. However launching two businesses within the same four storey Victorian building on a street of trendy coffee shops in Leeds isn't so easy.
Nigel struggles with his new café 'Hot Stuff!' on the floors below whereas upstairs Lorraine's hairdressing salon 'Chic' immediately prospers, allowing her to expand into beauty therapy.
Their working days are far from mundane with the antics of Nigel's cheeky young staff, their love lives and friendships. His plans for a secret anniversary surprise are almost ruined when 'Hot Stuff!' is used in a police stake out in which Nigel gets more than he bargained for.
Upstairs certainly may have plenty of clients on their books but one member of staff's delving into the unknown could soon alter this. It's not long before 'Chic' salon is plagued by ghostly hauntings.
Lorraine is a lady with big plans for the future and is determined to let nothing stop her from succeeding. She has an extremely colourful past known to Nigel and only one other person but it is never spoken of. Unfortunately secrets have a way of catching up with you and so does the past. Will the activities of a new member of staff threaten to put Lorraine's businesses and private life in jeopardy?
Book review by Gabrielle Devon