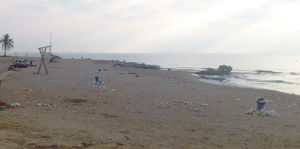 THE Mojacar PSOE Socialist party claimed the Mayor, Rosa Maria Cano, is "to blame" for the type of tourists the town is currently attracting.
Cano said she planned to meet with the local business community to discuss steps to stop the town from being branded as a stag night destination, as well as a 'Mecca' for youths who want to party and drink in the streets. She suggested that the economic crisis had forced hotels to accept a different type of clientele.
However, the PSOE spokesman, Manuel Zamora, said that she should "repair the damage she has caused herself and not blame other administrations or businesses for her own mistakes".
PSOE blames the problem on two of the local 'chiringuitos' which they claim "insist on becoming discos from , attracting clients who use the beach as a drinking area". This, they say, is because Cano granted them licenses to play music just days before the May local elections.
Meanwhile, Cano responded "I don't think I, or the mayors in any town where the 'botellon' is a problem, can be held responsible. I would like to think that the PSOE spokesman speaks from lack of experience, as this problem can't be solved with politics alone. It is easy to criticize without proposing solutions.
"The town hall is doing everything the law allows, and so far this year there have been 500 fines. We need several sectors, including local businesses, to get involved. I will meet with them in September and hope to find solutions which benefit everyone and between us do away with the problem eventually".
A reader's account of Mojacar drinking problem:
My wife and I moved to Mojacar 10 years ago, when it was a haven for young families and older generations, a peaceful and charming holiday/residential resort.
On Sunday, August 14, at , we had to drive from the service station on the hill to Mojacar Pueblo, down to the Puerto Marina Hotel.
In the three or four kilometres from the Liquid Night Club, to the horse riding school, there were youths being sick just about anywhere, young girls lying comatose on the pavements, with no one seemingly looking after them, presumably as a result of drink or drugs or a combination of both.
On several occasions, youths fell off the pavement and landed in front of the car. Everywhere was openly being used a toilet by both males and female, with urine running across the footpaths and into the road.
The 'botellon' parties were still in evidence on the beaches and it was almost impossible to see the sand as it was covered with rubbish.
People were staggering back to their vehicles and driving off. One drove at approximately 10kph in front of us, weaving across the road as he laughed and fooled about with his friends, who all looked to be about 18.
The car was an almost new, top of the range Mercedes, high powered and an accident just waiting to happen.
Spectrum radio station has on several occasions reported on what they seem to agree is adequate policing of the area, so could somebody explain why we did not see even one Local Police or "Guardia Civil patrol? Surely their mere presence would act as a deterrent.
We have friends who have been staying at the Puntazo Hotel several times a year for approximately 20 years and others who found it in the last couple of years and thought it to be wonderful. They have all stopped staying there because of all the noisy stag and hen parties.
If it is the Mayors intention to make Mojacar the present day Benidorm of some 20 years ago, then she has almost succeeded. It should be remembered that it took many years and a big investment to put Benidorm back on the tourist map and make it the resort it now is.
Mojacar was known for years as the 'corner of enchantment' hardly a term that can be used today. Mojacar council needs to act now, in order to reclaim that title, before it is too late.
Charles, Almeria