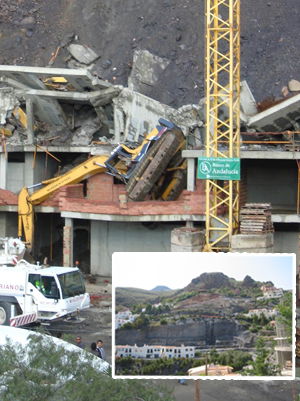 IN 2002 promoter Luis Gonzales began to build an apartment building having made a vertical cut in the side of the hill, but without building a retaining wall to hold up the road.
This left a two metre gap between the wall and the apartments.
The project allegedly went ahead with no official building license and was approved by municipal technicians despite the obvious dangers. The mayor at the time was Salvador Esparza.
Then in 2003 heavy rain brought down part of the wall beneath the road.
A crane sent to clean up the debris fell through the road and into the apartments below, destroying them.
The Town Hall held talks with residents in 2009 and demanded reports from the provincial government.
The technical report determined that the town hall should take immediate action, while the legal report concluded that the upkeep of the road was the responsibility of the homeowners.
The houses were closed off, they had no first occupation license and the promoter, unknown to the owners, reportedly had not insured the homes.
Calle Golondrina was closed to traffic and some residents are unable to access their homes by vehicle.
The cost of the work needed is extremely high and the residents say they can't afford it. They asked the town hall to hire a lawyer to sue the promoter.
The law dictates that if the residents don't solve the problem, the houses will be repossessed and the town hall must carry out the work and later claim the money from the residents through legal channels, the town hall said.
By Jennifer Leighfield
[email protected]