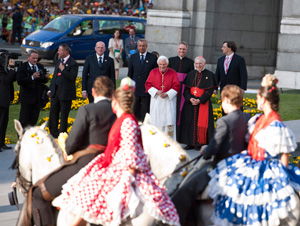 "AN absolute success with worldwide repercussions" was Spanish primate Cardinal Rouco's description of Pope Benedict's visit to Spain.
The Pope himself was no less satisfied with the World Youth Day festival held this year in Madrid and which he attended from Thursday August 18 to Sunday 21.
"I leave Spain both happy and grateful," he said, maintaining that the festival allowed the Church "to look ahead with confidence." Benedict XVI, 84, was rejuvenated by his visit, according sources who insisted that he came to Spain "not to do battle" but to show "the most amiable face" of traditional doctrine.
Addressing students for the priesthood, he showed the Church capable of self-criticism by referring to "rotten apples" and insisting that priests had to be "holy" and not symbols of contradiction or scandal.
The hundreds of thousands of young people of all nationalities who converged on Madrid were viewed as an "adrenaline rush" for the Church. They were young Christians who were neither dull nor prudish but were lively, fun-loving and colourful as well as peaceful, serious and responsible, organisers said.
Spain's Constitution no longer recognises an official state religion, but the socialist government avoided the usual criticisms from conservative and Church quarters with an official collaboration that was deemed more unstinting than on other occasions.
In alleged counterpart – and contrasting with his visit to Spain last November – Benedict XVI refrained from openly censuring Spain's increasingly secular society.
With an estimated 600 million television viewers worldwide, there were side-benefits, too, with massive publicity for Spain, Madrid and El Escorial. Even Spain's Easter Week celebrations were spotlighted, with Brotherhoods from all over the country adding colour the Stations of the Cross presided by the Pope in the Plaza de Cibeles.
By Annie Maples
Photo credit: Mazur/catholicchurch.org.uk