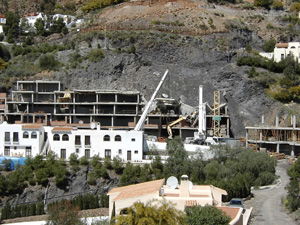 THE Mojacar Socialist Party has called for urgent action in the neighborhood of La Parata where some roads are in danger of collapsing.
The secretary general and municipal spokesman, Manuel Zamora, recently held a meeting with the local residents' association. They visited La Parata, where they were able to see the cracks in Calle Golondrina, which is literally falling away.
This damage has led to access problems to some of the 160 families who live there.
Zamora complains that Mojacar Town Hall has done nothing to solve the problem except restrict access to heavy vehicles. "The Town Hall is responsible for the upkeep of public roads within the town and this road requires the urgent construction of a retaining wall before the next rains to ensure the safe passage of vehicles" said Zamora.
He also suggested building an overpass over the riverbed at the access to the area which becomes dangerous to pass during the rains, as well as ensuring that water pipes which run under the street be kept clean.
Meanwhile, Mojacar Citizen Safety Councillor, Maria Luisa Perez responded that it was understandable for residents to complain to anyone who would listen, but that neither the PSOE nor any other party could accuse the town hall of not taking measures to keep local residents safe. "It is irresponsible for anyone to make such claims" she said.
By Jennifer Leighfield