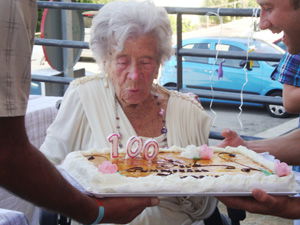 CALVIA resident Florence (Florrie) Maiden celebrated her 100th birthday in style. The morning of August 12 was very special, as Florrie received her guests at the Calvia care home where she lives.
In the company of family and friends Florrie  received her birthday card from the Queen causing much excitement and a tear or two.
Deputy Mayor of Calvia, Miguel Bonet, presented Florrie with a special plaque, and Councillor Angie Guerrero read out a poem that she had written for Florrie.
In the afternoon well over 100 guests, all dressed in Florrie's favourite pink, celebrated in a lovely location near the sea. The day was ended by releasing 100 pink balloons.
Angela Guerrero said: "Thanks to Florrie's family for a wonderful day and huge congratulations to the 'birthday girl'."