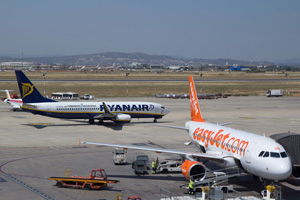 THE regulatory distance between aircraft in Spanish airspace is to be reduced in a bid to cut delays.
From September 22, the minimum distance will be reduced from 8 to 5 nautical miles, allowing aeroplanes to fly within 9.2 kilometres of each other instead of the present 14.8 kilometres.
On approaching an airport this will be further reduced to 3 nautical miles. A 2.5 mile limit already operates in Madrid, Barcelona and Palma airports on the last 10 miles of a flight, said AENA, Spain's airports and air navigation authority.
The new minimums were in line with other European airports, including France and would increase airspace capacity by 15 per cent.
Insufficient airspace capacity was the principal cause of delays, according to AENA.  Last month Madrid and Barcelona reduced the length of each wait by 10 and 38 per cent respectively when compared to July 2010, but 36.5 per cent of all delays still originated in Spain's air control centres.
In the Canary Islands, for instance, this rose to 50 per cent, owing to increased air traffic in July, coupled to adverse weather conditions of storms and gales.
So far there has been no official reaction from USCA, the flight controllers' union, to reducing the minimum distance between aircraft. However, controllers were unhappy that they had not been trained in adapting to the new regulations, said union sources, although AENA insisted that additional instruction was unnecessary.