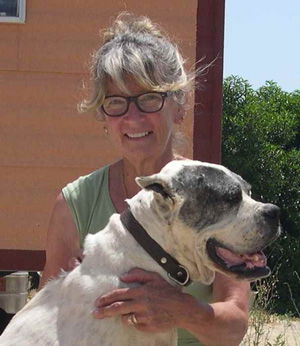 BUILDING on its growing collaboration with Mojacar Town Hall, the animal rescue charity PAWS is now aiming to solicit support from the dozen other Town Halls in its operating area.
As reported in Euro Weekly News last week, Mojacar has given PAWS the free use of a local for new shop premises on a ten year lease. Mojacar's Mayoress Rosa Maria Cano described that gesture as "a good start."
Considerable further progress was made at an hour-long meeting on Friday between Sra. Cano, PAWS President Karen Polansky and Treasurer Janet Franklin.   The Mojacar delegate will present a detailed solicitud to the Mancomunidad (the association of all the local authorities in the Levante).
"This is a big step forward for us," said Karen Polansky.  "In 22 years the only previous municipal support we have ever received was a small, one-off grant from Mojacar in 2001." Also discussed at the meeting was a longer-term educational project among young people to promote more responsible pet ownership.
Many pets are still not being micro-chipped (as required by law) and PAWS is keen to promote the importance of neutering to prevent the growth of unwanted animals simply being dumped.
"PAWS simply doesn't have the manpower to do this at the moment, particularly fluent Spanish speakers" said Janet Franklin.  "But we are hoping that greater collaboration with the Spanish community will really help to move this forward." The new PAWS shop – in the Multicentro opposite Mojácar's Parque Comercial –  may not be in operation until towards the end of the year. There is no storage and sorting space at the new premises, and a search is under way to find and rent additional space nearby.
Further information can be obtained or questions answered via [email protected]