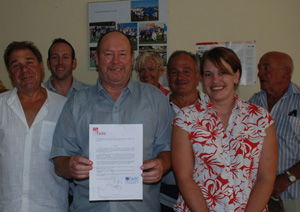 COMMITTEE Members of Albox Rugby Club were presented a cheque for €1,117 in support of those affected by the recent earthquake in Lorca.
The donation, handed over to the Murcia based charity FADE (Fundacion Ayuda Desarrollo Educacion), will be used to help restore the San Diego residence in Lorca which had to be demolished after the earthquake that struck the city on May 11 necessitating the relocation of its 72 elderly residents.
Albox Rugby Club raised this sum during a Rugby 7s tournament in July. "We had a great day. The players and supporters were fantastic and we raised money for a good cause." said club president, Mike Brickell.
The Club will be fundraising again on September 3 with an 'AlboxExtravaganza' music and dancing in the Recinto Ferial in Albox.
This time funds raised will go towards the clubs own fund to provide kit for the players amongst other things. Tickets are available from Azafran or contact us to reserve tickets on the email below.
If you are interested in supporting the team or becoming a player contact Club de Rugy Albox on [email protected] or find us on Facebook Albox Rugbyclub.