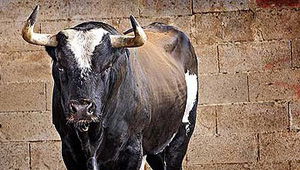 A bull weighing half a tonne claimed his third life on Sunday. A man, 29, allegedly under the influence of alcohol, was fatally injured during a bull-baiting in Xativa (Valencia) early last Sunday morning.
His killer was Raton, a 10-year-old veteran bull weighing 500 kilos which has already taken two lives and injured dozens of others in this still-popular fiestas entertainment.
The victim, Vicente M, was the worse for drink by the time he entered the ring around midnight and had earlier been ejected from the ring, witnesses said. "I paid to get in and I can do what I want," Vicente objected as he was moved to safety.
"You could see he had no coordination and people applauded when they took him out.  Nobody wants to see something bad happen," said a woman spectator. But something bad happened. Vicente managed to return to the ring where, after clapping his hands to attract Raton's attention, he was gored twice and fell to the sand.  He was taken to hospital but died shortly after arrival.
Raton was famous before his Xativa attack, first coming to the notice of aficionados in 2004.  This was three years after Gregorio de Jesus, a Sueca (Valencia) breeder and former bullfighter, put him on the "encierro" circuit. Here would-be toreros can come face to face with a bull before leaping to the safety of platforms erected inside the ring.
Unlike a formal bullfight, where the bull always dies, an "encierro" animal lives to fight another day and knows far more than the young bloods hungry to display bravado and taste danger ever suspect. Raton  –  it means Mouse and he earned the name because he was small at birth – first killed a person in 2006 and again in 2008.  He now has a Facebook page with 2,000 followers and an entry in Wikipedia.
With organisers paying anywhere between €10,000 and €15,000 to hire Raton, De Jesus admits that although he had planned to retire him last summer, the economic crisis meant he could not yet be put out to grass.
"I'd clone Raton if I could," he added.