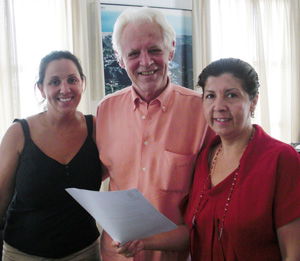 MOJACAR Town Hall has granted animal welfare charity PAWS, the free use of premises for a shop and offices for a period of 10 years.
The use of the premises by PAWS was agreed at a Mojacar Town Hall meeting and the documents to confirm it were received from the mayor, Rosa Maria Cano, and Councillor for Security, Maria Luisa Perez, by PAWS coordinator and representative Mike Dornan. Rosa Maria Cano pointed out the "importance of the work Paws is doing, not only in Mojacar, but also in nearby municipalities.
The shelter, located on the Garrucha-Los Gallardos Road, is run by volunteers and has a lot of expenses: maintenance, food, cleaning, vet's assistance, etc. "They asked Mojacar for more contributions and we thought that allowing them use of these premises would be a good start", said the mayor.
At the moment, Paws is having financial difficulties that could lead to its closure if  contributions do not continue arriving.
"It was founded in 1989" said Dornan, "when British ex-pats arrived in Mojacar and saw so many abandoned animals. They wanted to look after them and decided to open a little shelter to protect them. However, the centre was first officially registered in 1996." Seventy volunteers, two part-time helpers and a manager who works every day, but only gets two days a week paid, are the only human resources Paws has got.
"Paws has collected 160 animals: 135 dogs and 25 cats, although we can only shelter 120 animals. We are making a big effort", Dornan said. He explained that part of the money needed to maintain the facilities and animals comes from the Paws shop, as well as from any other sponsorships.
They received small contributions, between €500 and €1,000, from the town halls in Los Gallardos, Vera, Turre, Mojacar, and other areas until May 2011. After that, they received €2,000 from Mojacar Town Council and are grateful for the permission to use these new premises for free, as the former location was both too small and expensive.
Dornan insisted on the need for volunteers because many of these animals have to be fostered outside the centre until they find a new home.
Helpline: 678 490 217 E-mail: [email protected]