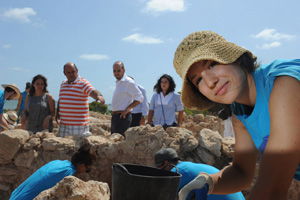 FOR THE last two weeks, the Natural Park of La Mata and Torrevieja has been a hive of activity.
A group of 25-volunteers have been helping with the clearing, cleaning and conditioning the ground for archaeological excavation and restoration work on the historic Firehouse, located in the Salinas.
The young volunteers were in Torrevieja as part of an initiative undertaken by the Youth departments of Valencia, called "discovering the origins of a people."
The project also included training activities relating to the salt industry, through talks and visits to the Salinas to see the extraction process for themselves, plus classes on the importance of salt throughout history, trade, transport and routes through the Natural Park plus astronomy activities in the park, which has very little light pollution, and on the beach.
The 25 volunteers come from all over Spain and have been collaborating in an archaeological dig around Las Lagunas de la Mata and Torrevieja.
Last week Torrevieja's Mayor, Eduardo Dolon accompanied by Belen Hoyo, Director General of the Institute of Youth and Valenciano de la Juventud (IVAJ) held an on-site, working meeting to assess progress in joint projects happening in Torrevieja with Work Camp Coordinator Luis Manuel Chulia.
Belen Hoyo said that "the camp had representation from twelve autonomous, communities and the 25 young volunteers come from Andalucía, Asturias, Catalonia, Madrid, Comunidad Valenciana, Castilla y Leon, Extremadura, Galicia, Navarra,  La Rioja, Murcia and the Basque Country " and that they appreciated the collaboration of the City of Torrevieja as well as the monitors and archaeologists.
The excavation was developed under the direction of Archaeologist Jesus Moratalla and ended on Monday August 15.
It included the restoration of historic salt industry infrastructures, particularly in the 'firehouse', an old checkpoint in the Salinas, whose origin dates back to the nineteenth century. Both the Director General and the mayor agreed that the IVAJ coordinated programs offer many benefits for Torrevieja's youth and the visiting volunteers.
Councillor for Youth, Rosario Martínez Chazarra noted the importance of Youth Activities in Torrevieja and said "we are putting a lot of effort into our schemes to gain as many advantages for the youth population in Torrevieja, totalling more than 18,600 boys and girls, as possible.
They can benefit both from the advantages of the Carnet Jove Card and youth programs, from language courses to leisure activities and services."
The two week camp was just one of nine held during the summer in the Valencian Community.
With Torrevieja's history dating back a couple of thousand years, the discovery of artefacts is common on any type of 'dig' around the city centre or in the vicinity of the Salinas, which have been a source of income to Torrevieja from at least Roman times. More information about the Salt Industry can be found by visiting the Salt Interpretation Centre, located just beside the old RENFE train Station.
By Keith Nicol