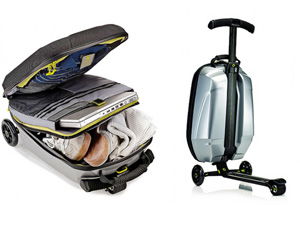 THOSE who have ever had to run with a suitcase because they were late for their flight might want to snap up the Micro-Luggage case.
This 'commuter scooter' has an inbuilt scooter so travellers can ride their on-flight bag to the gate. It is possible to detach the 26-litre case from the lean-and-steer scooter and wheel it around in the traditional way. It was designed by Colchester-based Company Micro Scooters and is being marketed at frequent flyers and people who make short commutes to work.
"Not only is it a healthier option to a car, it is a great way of reducing your carbon footprint," a spokesman for the company said.