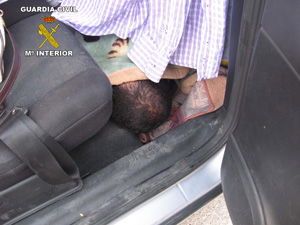 GUARDIA CIVIL at Almeria Port arrested the 48-year-old driver of a vehicle in which another man was found hiding under sheets and bags.
The stowaway was found by sniffer dogs at a routine checkpoint for vehicles disembarking from the ferry from Nador, Morocco.
He was taken into custody by the National Police who will go ahead with procedures to send him back to Morocco, while the driver was charged with crimes against the rights of foreign citizens.