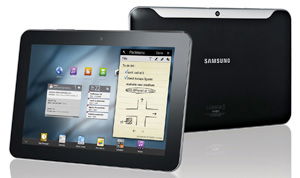 SAMSUNG'S Galaxy Tab 8.9 is similar, but smaller than the newly-launched Galaxy Tab 10.1.
Measuring 8.6mm thin – 0.2mm thinner than the iPad2 – with an 8.9-inch touchscreen it weights just 470g, making it one of the lightest full-sized tablets on the market.
It boasts powerful Android 3.0 Honeycomb software which adds a whole new user interface to take advantage of the screen space available on a tablet.
It even has 3D effects, making it fun to whip between home screens and the Google Editions ebook reader widget shows a stack of covers that can be flicked through with ones finger before picking a book to read.