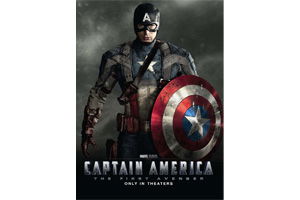 From weakling to muscle man in the blink of an eye 
'Captain America: The First Avenger' will focus on the early days of the Marvel Universe when Steve Rogers (Chris Evans) volunteers to participate in an experimental program that turns him into the Super Soldier known as Captain America.
As Captain America, Rogers joins forces with Bucky Barnes (Sebastian Stan) and Peggy Carter (Hayley Atwell) to wage war on the evil HYDRA organization, led by the villainous Red Skull (Hugo Weaving.)
You could expect that this would be a propaganda film and nothing more, but its humorous side and extreme action sequences mean that you can't take it too seriously.
Thanks to digital 'trickery' Steve Rogers transforms from a bullied weakling who is denied entry to the army because of his physical limitations to a muscle man.
Captain America is not really a superhero movie, but more of a war film with a superhero thrown in for good measure.
The performances from the cast, despite not making the film overly exciting, as it seems to run along at quite a steady pace for its two-hour duration, are good, as believable as can be possible in a superhero movie and it could be said that the are way ahead of the screenplay they have been given to work with.
For die-hard fans of this type of films, there is really nothing new, and quite sincerely, it doesn't go to levels that others have reached. However, for the comic book fans, it is a faithful and well-conceived version of a classic which is sure to please.
Film Review by Gabrielle Devon