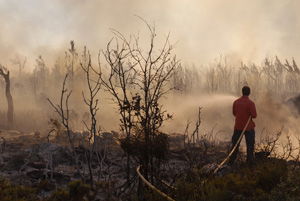 THE lowest July temperatures in 10 years practically halved fire damage to woodland in Spain.
An average overall temperature 23.3 C, coupled with abundant rain this spring, meant that 2011 has so far been kind – at least as regards wildfires.
Between January 1 and July 31, fire destroyed 30,657 hectares of woodland, compared with the current decade's average of 59,593 hectares, the Environment Ministry announced. 
There was also a significant reduction in the number of fires, with 8,364 instead of the July average of 10,131.