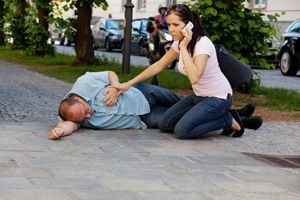 CHANCES of surviving a heart attack depends where in Spain it happens, according to the President of the Spanish Cardiology Society, Carlos Macaya.
He complained that Spanish is below the European average in the number of angioplasties – widening a narrowed or obstructed blood vessel – carried out on patients who have had a heart attack.
This treatment, according to specialists, is the best for minimizing severe cardiac problems, but must be carried out immediately after the heart attack and in hospitals prepared for it.
A rapid response and good coordination between paramedics and the hospitals which can carry out angioplasties is essential, and according to the society, in Navarra, Murcia, Galicia, Cataluña and the Balearic Islands, the standards can compete with the best European hospitals, while in Valencia, Asturias, Andalucia and Aragon, fewer angioplasties are carried out, so the possibility of surviving is lower.
Macaya says "if you have a heart attack in Murcia, in 30 minutes you'll be in hospital, but if you're in Alicante on a Saturday or a Sunday, you just won't".
This, he says, is not a budget issue, but rather depends on the authorities' management of the available resources. For example, it is no good taking a patient to the closest hospital if the treatment required is not available.
The aim of the society is for all regions to adopt the protocol of the Stent for Life programme from the European Cardiology Society, which would allow for 500 to 600 patients per million inhabitants to undergo an angioplasty when necessary, saving some 1,000 lives per year.
The aim is for 70 per cent of patients to undergo angioplasties after a heart attack, while the current Spanish average is 30 per cent, and between 20 and 30 per cent arrive dead to the hospital.
By Jennifer Leighfield