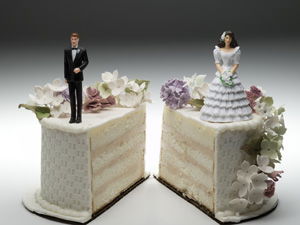 ALMOST 15,500 married couples split up in the Valencia Region in 2010, according to the General Council of Judicial Power.
In the whole of Spain, the number of failed marriages in 2010 was up two per cent on the previous year to 127,682, which includes divorces, separations and annulments.
This put an end to the trend which had been seen since 2007 when the number of broken marriages had begun to decrease.
The number of divorces in Spain rose three per cent to 119,554, while separations dropped by six per cent to 7,962, and annulments fell by five per cent to 166. Of the total number of divorces, 70,932 were by mutual agreement, and of the total number of separations, 5,233 were consented by both parties.
The number of divorces rose last year in all regions except Aragon, Asturias and the Canaries where it fell. The region where most couples got divorced was in Andalucia, with 22,232, followed by Cataluña, with 21,884, and Madrid, with 16,483.
The regions with least divorces were La Rioja (640), Navarra (1,282) and Cantabria (1,503).