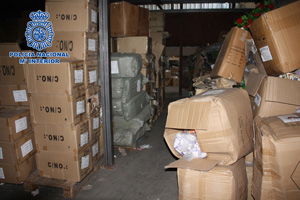 NATIONAL POLICE confiscated almost 300,000 forged children's toys at a warehouse in Fuenlabrada, Madrid.
The items, which included stationery, toys, cards, watches, stickers and other goods with images of popular cartoon characters such as Ben 10, Hello Kitty and SpongeBob Squarepants, were sold in bulk to bazaars in the Madrid region and had not passed safety controls.
They were stored in a hidden area accessed via a trap door covered with boxes and plastic plants. The rest of the goods in the warehouse were legal.
Two Chinese citizens, aged 45 and 35, were arrested in the operation.