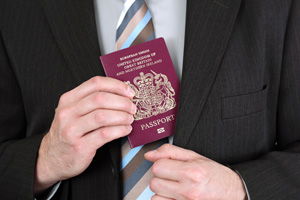 HOW is a passport made? Why do passport fees change? Why does my new passport have a different number? Why are passports more expensive abroad than back in the UK?
If you've ever asked one of the above questions, the British Embassy wants to hear from you. During August, the Regional Passport Processing Centre (RPPC) in Madrid is asking British nationals to submit any passport-related questions to them and they will endeavour to answer them in a new video – and Q&A – to be posted on the UKinSpain website.
Head of the RPPC, Andy Hamilton said: "there are a lot of myths out there about passports. So we thought we'd give British nationals the opportunity to ask us whatever questions they may have, and we'll do our best to answer them openly and honestly."
So, if you have a question for the passport team, now's your chance to get an answer. You can submit your question in a variety of ways, and you have until Friday August 19.
You can e-mail the team at [email protected], marking it PASSPORT Q&A. (Please avoid using this email address for other enquiries)
You can post a message on the British Embassy's Facebook page
You can post a video question to YouTube and send them the link (by email or via Facebook)
Or you can write to the team with a good old pen and paper. The address is:
Passport Q&A , Regional Passport Processing Centre, British Consulate-General, Torre Espacio
Paseo de la Castellana, 259 D, 28046 Madrid.
The passport team intends to post the video on the UKinSpain website as quickly as it can.
"Much depends on how many questions we have to sift through," adds Andy Hamilton, "but we aim to have a video up on UKinSpain by the end of September.  Until then, we recommend people take a look at our existing Passport pages. We already have a lot of information there, so  there's a good chance you'll find answers to many of your questions."