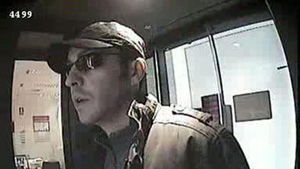 SPANIARD Ricardo Lopez robbed 29 banks in nine years to finance an addiction to one-armed bandits.
Lopez carried out each attack alone, armed with a dummy pistol, but although he was one of Spain's most active bank robbers, he did not have a criminal record.
And somehow, despite never wearing gloves, he always managed not to leave fingerprints. But last week time was up for the 35-year-old man nicknamed "El Patillas" (Sideboards) by the police because of his distinctive haircut.
On July 26, after walking into a Santander branch in Avenida de Badajoz (Madrid) where an intimidated cashier handed over €6,200, he immediately drove to a gaming salon in the Ciudad Lineal district. The previous Friday he ran out of money after feeding €6,000 into the same one-armed bandit for three days.
With the intervening weekend followed by a fiesta day he asked the manager to reserve the machine for him until he could resume playing the following Tuesday. After obtaining the €6,200 he returned to Ciudad Lineal but by then the police were pursuing him and after nine years they finally arrested him, thanks to his watchstrap.
Although Lopez had changed his clothes after the bank robbery, the cashier remembered his red watch strap which ultimately gave him away.
Lopez's solution "career" began in 2002 when, aged 26, he walked into a branch of the Central Hispano Bank disguised with a cap and sunglasses "Give me all you've got in large notes," he told the cashier, displaying a replica gun.
This first holdup, like all those that El Patillas carried out over the next nine years, earned him around €300,000 and it all went into one-armed bandits.  His favourite type gave a maximum payout of €12,000 which Lopez presumably won on many occasions – but not that day in Ciudad Lineal.