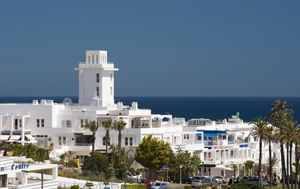 MOJACAR Town Hall officially announced the launch of a campaign to crack down on noise coming from premises which have been the cause of complaints from local residents.
All necessary steps are going to be taken to force bars, restaurants, nightclubs and other such venues to keep to the acoustic levels specified by law, the town hall said. As reported in EWN last week, noise limiters will be connected to the Local Police so that noise levels and opening hours can be strictly controlled.
Meetings with the local business owners have been held in which they have been informed of the need to have devices fitted in order to abide by new laws which the council will publish "as soon as possible."
The owner of a well-established local bar who wished to remain unnamed told EWN "The levels suggested are ridiculous and impossible to work with, another nail in Mojacar's coffin. Some of the hotels in Mojacar have exceptionally noisy night time entertainment, are they also to have limiters fitted?"
Meanwhile, Ms Lyndon, a 57-year-old British ex-pat living on Indalo Mountain, says that "as a regular 'sufferer' of the horrendous row these bars make, especially on weekend nights" she welcomes any measures brought in to attempt to reduce the noise. However, she claims to be concerned about how effective the new law will actually be. "We frequently hear of complaints against certain clubs being ignored" she says.
Many bar owners have complained of the short notice they have been given to get the noise limiters installed.
In response to this, the Mayor of Mojacar, Rosa Maria Cano, told EWN, "so far, they have been informed of the noise regulations which are going to be enforced. This is something they should have been abiding by for years, and those who don't annoy people have nothing to worry about."
However, the Cane says the town hall has received "a huge amount of complaints from local residents" adding that there should be a "balance" between the establishments which have to take advantage of the summer to make money, and the local residents and tourists who have a right to enjoy a peaceful, resting time.
Asked about which law is being enforced, Cano responded, "Decree 326/2003 establishes that the Environmental Department and Town Hall share jurisdiction over the vigilance, control and discipline of acoustic contamination. According to Cano, the activities described in Annexes I and II of Law 7/1994 (*) regarding Environmental Protection, are under the jurisdiction of the Environmental Department, while other activities not described in those Annexes are attributed to the town halls.
Amongst the main instruments to evaluate and act against acoustic contamination, the most important is 'detailed regulation of the acoustic contamination which must be observed by activities which affect daily life to a large extent such as public establishments and recreational activities, as well as motorized vehicles.
When asked why the laws were going to be enforced now and not before, Cano claims that "for years", the town hall has been insistently asking establishments, which know their obligation to keep noise levels below a certain number of decibels, to be prudent and respectful towards others.
"The town hall has been extremely flexible" she says, "but this has been taken as permissiveness, and they haven't played by the rules". "However, having seen the number of complaints from tourists spending their holidays in Mojacar and local residents, the town hall has been forced to take measures which may not be liked by everyone but which have to be abided by in the general interest of the town."
Meanwhile, Ms Lyndon says she moved to Mojacar about 18 months ago from Cornwall after spending just the winters in the town for the previous few years. "We can't have the windows open at night, for the noise, and last Saturday night one place had someone playing acoustic drums – the sound levels were just indescribable and it was as though they were playing right outside on our terrace, deafening.
"We are really hoping that the new noise laws work, we are not serial complainers or kill-joys, far from it, we would be delighted for them to play music as loud as they are able until midnight but after that it should be reduced in consideration of residents."
By Jennifer Leighfield
[email protected]