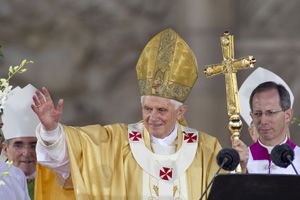 CARPENTER Emilio Ubeda has been working against the clock since June, ready for Pope Benedict's visit this month.
The Avila craftsman was asked to make 200 confessionals that will be installed in the Retiro Park, ready for the hundreds of thousands of people expected to attend World Youth Day in Madrid between August 16 and 21. This coincides with Benedict XVI's three-day visit which starts on August 18 and those wishing to will be able to enter the privacy of the distinctive post-modern constructions to make their confessions in 30 languages.
"It's a very big responsibility," Emilio Ubeda acknowledged last week.  It was the most important order he had ever had "and not just from a financial point of view," he added. The confessionals designed by architect Ignacio Vicens are 3.6 metres high, 3 metres wide and 1.6 metres deep.
Resembling the sails of a boat, they provide just enough room for a prie-dieu on one side and a chair for the priest on the other, separated by a grille. Describing himself both as a Catholic and "a calm sort of person," the order had also provided an important boost for the family business, which opened in Avila in 1910, Emilio admitted.
The 200 confessionals were almost finished, Emilio announced earlier this week, saying that he wanted the finished structures to be perfect in every respect.  He also hoped that Benedict XVI would be using one when he heard the confessions of 20 young people in Madrid on August 20.