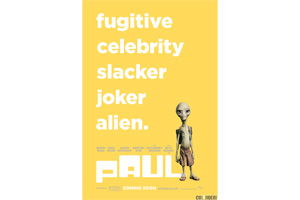 Simon Pegg and Nick Frost reunite for the comedy adventure 'Paul' as two English sci-fi geeks whose pilgrimage takes them to America's UFO heartland. While there, they accidentally meet an alien who takes them on an insane road trip that alters their universe forever.
For the past 60 years, an alien named Paul has been hanging out at a top-secret military base. For reasons unknown, the space-traveling smart ass decides to escape the compound and hop on the first vehicle out of town — a rented RV containing Earthlings Graeme Willy and Clive Gollings.
Chased by federal agents and the fanatical father of a young woman that they accidentally kidnap, Graeme and Clive hatch a fumbling escape plan to return Paul to his mother ship. And, as two nerds struggle to help, one little green man might just take his fellow outcasts from misfits to intergalactic heroes.
The film contains numerous references to other sci-fi films, especially those of Steven Spielberg, as well as to general science fiction fandom.
Although this film was released in the UK and USA earlier this year, it was released in Spain just last week, so if you missed it, now you have another chance to catch it at the local cinemas.
The most amusing side to this film, which doesn't quite hack it as a full-length feature but still raises plenty of laughs along the way, is the concept that aliens are just like the rest of us. Surprisingly, despite having men as the main characters and plenty of action scenes, this film is really quite sweet.
Film Review by Gabrielle Devon