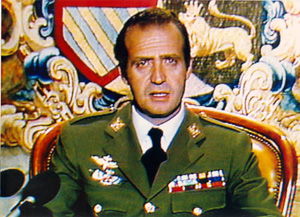 THE CIA feared that King Juan Carlos risked assassination following the attempted coup d'état of February 23 1981. The King was unequivocally opposed to the coup, recently declassified documents confirmed.
His reaction was crucial to aborting it, they said, although he knew that the dangers to himself would not necessarily cease when Antonio Tejero, the coup's figurehead, left the parliament building with his men next day.
Many more key military figures would have backed the coup if it had not been crushed so rapidly, the CIA suspected. Its agents had infiltrated the Spanish armed forces decades earlier but were still surprised at the extent of opposition to the democratic process.
This outstripped estimates, agents told their Langley chiefs in reports and memorandums which observed with disquiet the tensions between the royal household and military hardliners opposed to the transition to democracy.
The King's clear rejection of the coup had weakened his standing with many officers and could alienate him further, they warned, if there was little success in combating terrorism and slowing down the autonomous regions' programme. It was on these two issues that the most inflexible demanded solutions in exchange for "keeping quiet", as one report put it.
The CIA still detected military "hotheads" in December 1981, but approved of changes made in the upper echelons a month later. The clouds were beginning to clear, they decided in January, with high-ranking officers in harmony with the king, who were open to progress and would welcome NATO membership.
Terence Todman, US ambassador at the time, said that if there were another coup, the first institution to be attacked would not be Parliament, but the King's home, the Zarzuela Palace.
This was sound reasoning, but no coup materialised.  Thirty years later the Defence minister is a woman, Spain has 17 totally autonomous regions and although ETA notoriously plays a double game, it announced a permanent ceasefire last January.
The CIA was wrong, fortunately.