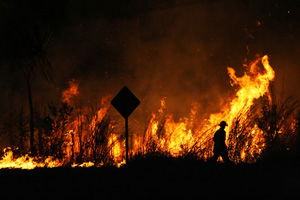 WITH the arrival of summer, so comes the forest fire season, and for the first time this year, the Department of the Interior decreed last week a pre-emergency (level 3) risk of fires.
This corresponds to the maximum risk of wild fires, and was declared throughout the Valencia and Alicante north areas. The risk level came about through the combination of several factors: a long dry spell preceding it, predicted thunderstorms and strong winds. These three variables combined for the first time last week to raise the level of risk to its highest without there actually being a fire.
The troops that make up the Special Plan for the Prevention and Extinction of Fires in Valencia, were put  on high alert.  With pre-emergency status, it is prohibited to burn woodland, crops, bonfires or agricultural waste within   500 meters of forest land.
Even the smallest uncontrolled fire in these conditions, can lead to a much more serious event, and last Sunday, water carrying planes were seen over the Benidorm area, as they were put in use to quell a small fire near Alfaz del Pi, before it managed to spread.