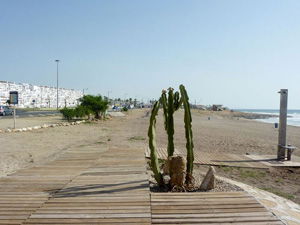 FOR the fourth year running the Almeria Federation of Disabled Persons' Associations has presented an 'Accessibility Guide' to the province's beaches, this time in English.
The guide has been created thanks to the collaboration of the 12 town halls along the coast that have checked the areas described and will include a direct link to the guide on their websites, as it will be an important tool for tourism promotion.
The guide is unique in Andalucia and now has a version in English which the President of FAAM, Valentin Sola, believes will be an asset in promoting the area for English-speaking tourists. It will be promoted by sites such as www.scope.org.uk an English organization for the disabled.
Meanwhile the Vice-President of the Provincial Government and head of the Tourism Department, Javier Aureliano, pointed out how important it was that the guide is present on-line, meaning that thousands of people throughout Spain and Europe will be able to access it and come to Almeria to enjoy its beaches.
Another novelty from last year's edition is that several towns have improved their facilities for the disabled, and there is the addition of El Cantal beach in Mojacar, putting the total number up to 36. Hotels along the coast will be able to feature in the guide after undergoing an 'accessibility consultation'. The Equality Department hopes that this will encourage them to pay more attention to this important feature.
There will be a set of rules describing the conditions and ideal features which they must have to be included in the guide which can be seen at www.faamalmeria.com