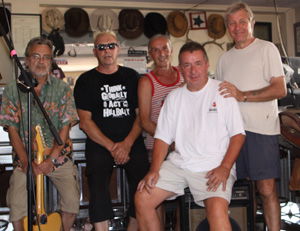 EVERY good summer needs a song so you can remember the past far into the distant future.
Well, Mojacar has the band and they are truly 100% good.  They call themselves '50/50'.  We are all in for a summer treat by this perfectly blended crew of members of the common market. How they ever pulled themselves together is almost impossible to conject.  Then again, music people are that way.  They move to the grove and find each other.
50/50 do a lot of covers, those oldies but goldies that we all yearn to hear again and again.  And, they can crank it up. Remember when Jim Morrison of the Doors quipped, "You've heard of Texas radio with the big beat."?  Well, this is da band with da summer rhythms just waiting for you to hear.
The drummer is none other than famed percussionist of THE Gary Newman Band, Kenny Bishop.  Kenny is also owner of the unique eating place Cowboy Cocina. Not only is Kenny a Nashville award winning chef, his restaurant is a virtual wild west museum with walls chuck full of meaningful witicisms. Kenny makes the beat go on.
Folklore has it that Elvis Presley couldn't say his name in public.  But on the stage, his shyness disappeared and he became a world wonder.
Mojacar's Phil Jones, a teetotaler fitness guy, is similarly only the boy next door.  You can run into him often and have a quiet chat. Yet, give him a microphone and put him in front of a crowd and in the blink of an eye, he metamorps into a rock star. Damn he can sing just like we all dream of doing in the shower.  Phil pulls it off for real and deserves the many accolades and swoons.
The other members are Bob Rock (Turin, Italy, came to Mojacar 1999) on bass; Ekkehard (Frankfurt, Germany, arrived 1988) on lead guitar; and Mark Whitfield (from England, local since1992) on vocals and rhythm guitar.
The combination is a winner and not to be missed.
Coming events are the Arkara Beach Bar in front of Cowboy Cocina at 5 PM on Saturday July 23 and El Patio at 6 PM Sunday July 31. Mark your agenda.  Or, pop into Kenny's Cowboy Cocina for a list of other events.
A 100per cent really fun summer is guaranteed, 50/50 and more.