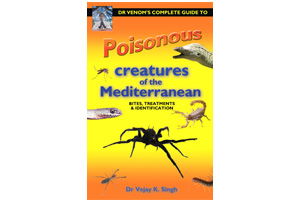 Dr Venom's Poisonous Creatures of the Mediterranean: bites, treatments and identification provides a comprehensive guide to Mediterranean insects and reptiles.
You may think it's only in the tropics that you sustain a dangerous bite from a snake or insect, when in fact you could be enjoying a lovely sunny holiday in Spain or France when you feel a sharp sting on your ankle…
Or your kids are playing in the water and suddenly you hear a scream… You're enjoying a nice meal when suddenly you get stung… But what do you do next? That's where Dr. Venom's Poisonous Creatures of the Mediterranean comes in handy. Spiders, insects, reptiles, amphibians and marine creatures, all animals you wouldn't want to even come across, let alone be bitten by are in this handbook.
Author Vejay K. Singh, a naturalist who specialises in Entomology, the study of insects and arthropods, provides trustworthy information on the different creatures that visitors to the Mediterranean need to be aware of.
The critters in the book are accompanied by vivid colour photographs and drawings, as well as useful and interesting information, including their region, symptoms of their poison, treatments and a Toxic Rating.
Throughout, Dr. Venom is aided by his colourful assistant Toxy, who provides interesting facts and information titbits. An indispensable guide to travellers and those with an interest in wildlife, Poisonous Creatures of the Mediterranean will leave you well-equipped with the knowledge of how to evade nasty bites from all kinds of critters.